Loyalty Programs | Gift Cards | Comp Programs | Email Solutions
Capture Your Share of the $10 Billion eGift Market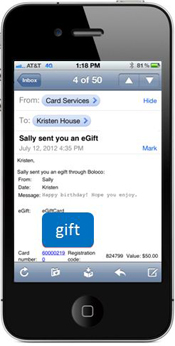 A recent Business Week article cited that eGift card sales are projected to reach "$10 billion in 2015, up from less than $500 million last year." EGift cards are stored value amounts delivered to recipients through virtual media such as email, social, or mobile devices. So, how can you take advantage of this growing market?
Behold, Paytronix's new eGift feature. The low-cost eGift option enables your restaurant to capture gift card sales that require same day fulfillment by delivering them via email or Facebook. Further bolster gift card sales with our eGift promotions that give you the tools you need to offer discounts or virtual comp bonuses on eGift sales.

With this new feature, you'll have the ability to upload fresh, virtual card designs that capture the character of your brand and the season. Also, our eGift ordering pages and emails are configurable to reflect your concept's unique brand.
eGift purchasers will appreciate the ability to buy their personalized gifts at any time and place—distant relatives can send their loved ones gift cards for a restaurant close by without a hassle. Recipients will enjoy the convenience of the eGift's mobile accessibility.
Call your sales representative to discuss adding the eGift feature today.

Holiday Card Ordering Tips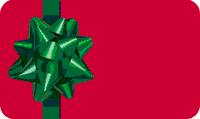 It's that time of year again. We know the calendar says July – but, believe it or not, now is the time when your thoughts should turn to holiday gift and promotional card ordering. As you set your holiday promotional calendar, be sure to incorporate enough time to order and receive cards. Normal card production times elongate during the holiday card production season and larger orders often take longer than smaller orders. The longer you wait to place your holiday gift card order, the more likely you are to see production timelines of up to 6 weeks from proof approval to ship date.
Consider these tips to ensure a smooth order:
Give yourself plenty of lead time. All delivery-time quotes given before you sign off on a proof are estimates. Manufacturers are not able to provide actual delivery quotes until artwork is approved and the cards are moving forward into production. If you are ordering special treatments or card types such as special inks, packaging, drop shipments, or signature panels, plan on additional production time.
Clearly communicate the date you need your cards to arrive. If you are looking to meet a specific delivery date, clearly state the date the cards are needed in your hands in an email to cards@paytronix.com. We will work with our manufacturers to try to achieve your desired delivery date, but the dates are not guaranteed. You may need to upgrade to expedited shipping.
Streamline your internal approval process. Have an internal review of your artwork prior to sending it off for proofing. The ability to approve the first proof will help move the order forward quicker.
Submit editable artwork. Send your files with unlocked layers. That way, if changes need to be made during the production process, they can be done quickly.
Accurately estimate your inventory needs. When placing your card order, purchase enough cards for the entire holiday season. Ask our cards team for assistance in estimating demand for your concept type and promotional plans.

Team Building at Paytronix!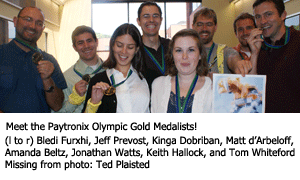 As a nod to the 2012 summer Olympics in London, Paytronix assembled its own version of Olympics. Competitive events tested a wide array of skills—from vigorous water balloon tossing, to blindfolded Lego assembling, to feature building, and more. Knowledge of all things Paytronix was essential (though a strong Frisbee throw was undoubtedly a plus).
Teams were composed of both seasoned and newer employees, Paytronix trivia gurus with trivia apprentices. The teams who went home with the coveted gold, silver, and bronze Paytronix medals engaged the various strengths of every team member when they needed them most. Whether our teams won or lost, we all gained better appreciation for the unique (sometimes peculiar) strengths and knowledge of our colleagues.
The Paytronix Olympics were epitomized by one particular relay challenge: moving an Oreo from the top of your head to the inside of your mouth using only facial muscles. The challenges, though physically and psychologically strenuous, were all sweetly rewarding in the end.
In This Issue

Capture Your Share of the $10 Billion eGift Market
Holiday Card Ordering
Paytronix Team Building
Paytronix Personality:
Christina Hurley
Paytronix Personality:
Christina Hurley


Paytronix Marketer, Christina Hurley, contributes to many aspects of the company as a self-described "utility infielder." She approaches each day with diligence and ebullient creativity, always with Walt Disney's simple mantra in mind: "If you can dream it, you can do it."
After graduating with her MBA from the Olin School at Babson College, Christina spent five years as a point person for Reebok, where she managed the fulfillment of the company's supplier agreement for the 1996 Olympic Games in Atlanta. Christina coordinated the delivery of extreme volumes of inventory to the Metro Atlanta Area and even managed to see many of the Olympic events. She became the Director of Global Forecasting and North American Inventory Management, eventually retiring from that post to have her first daughter.
Soon after, Christina's friendship with Scott Walters, her former Babson classmate and current Paytronix sales rep, introduced her to a professional opportunity at a startup named Trailbreaker. In 2001, after Trailbreaker was sold, both Christina and Scott joined Paytronix. Christina has been hooked on the company's innovative spirit ever since.
Christina should be considered for mother of the century! She is in constant motion driving, coaching, counciling and imparting her love of cooking to her two daughers. Christina and her husband, Chris, are also proud doggie parents of two golden retrievers, Linus and Stella. Christina sings with her church choir, too.
Where Are We?

Andrew's
Awesome Image